One of the most romantic and popular ways to see Central Park is from a horse-drawn carriage. Visitors enjoy this year-round, even during the winter months. The carriages can be found lined up along Central Park South (59th Street) between Fifth and Sixth Avenues, at the southern end of Central Park across from the Plaza Hotel. Rides cost $34 for the first 20 minutes and $54 for a 45 to 50 minute tour.
Resources
Pictures of Carriage Rides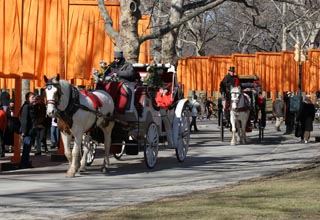 Horse-drawn carriages in Central Park, with Christo Gates. 13 February 2005.