After a two-year, $4.3 million restoration the North Meadow reopened in May, 2000. Park visitors can enjoy over 16 acres of lush, green lawn; new trees, shrubs and native grasses; fields in peak condition, thanks to new drainage and irrigation pipes; 12 new hardball/softball fields (7 hardball/5 softball) rebuilt and repositioned for less field overlap; six restored soccer/touch football fields for use in the fall; new asphalt pedestrian paths with safer, more accessible routes for the disabled; and sixty new benches and seven new drinking fountains for the enjoyment of Park visitors.
North Meadow covers 16 acres bounded by the East and West Park Drives between the 97th Street Transverse Road and the 102nd Street Cross Drive.
Resources
Pictures of North Meadow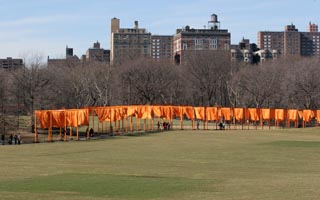 North Meadow and Christo's Gates. 13 February 2005.