The southeast corner of Central Park was from its inception, and continues to be today, the most heavily used Park entrance. Fully half of all Park visitors enter by way of Grand Army Plaza. In the 19th century it was the first destination of a carriage ride north from the growing city to the Park. Olmsted and Vaux, who designed Central Park in 1858, intended the Pond landscape to welcome visitors and offer an instant haven from the city, which it continues to do to this day.
The comma-shaped Pond is situated below street level, which has the effect of muting the urban cacophony and creating a surprising calm. The gracefully-shaped Gapstow Bridge arches over the northeast end of the Pond, framing the picturesque scene. This is the second bridge of the same name on this site. The original, whose design is attributed to Jacob Wrey Mould, was built in 1874. One of the most unusual bridges in the Park, it was made of stone abutments, with cast-iron filigree and two semi-circular wooden arches. The wooden arches and flooring deteriorated, and the bridge was replaced in 1896 by the present simple stone structure made from unadorned Manhattan schist (the local bedrock).
The nearby Cop Cot (Scottish for little house on the crest of the hill) — the Park's largest rustic wood structure — is perched on a large rock outcrop at the Sixth Avenue entrance, providing a splendid view of the Pond below.
Visitors may notice a fenced-in wooded area jutting into the Pond. In 1934, Parks Commissioner Robert Moses created a 3.5-acre nature sanctuary, known as the Promontory. It was renamed the Hallett Nature Sanctuary in 1986 by Parks Commissioner Henry J. Stern, in honor of George Hervey Hallett, Jr., an ardent birdwatcher, naturalist, and civic leader. It is open only for special tours and is the smallest of the Park's woodlands.
In 2001, the Central Park Conservancy completed a $4 million reconstruction of the Pond. The 11.5-acre restoration included the Pond and its surrounding landscape, located between the Fifth and Sixth Avenue Park entrances, and extending north to the edge of Wollman Rink and west to the slope below the Cop Cot rustic shelter. While most of the features of the original design were retained, improvements in design and infrastructure were made. These included attractive shoreline and upland plantings, a new island habitat for birds and turtles, and a peaceful waterfall and series of cascades on the water body's west side.
Resources
Pictures of the Pond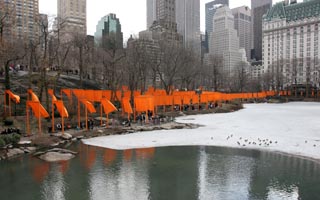 Christo's Gates around the Central Park's Pond, with Plaza Hotel. 12 February 2005.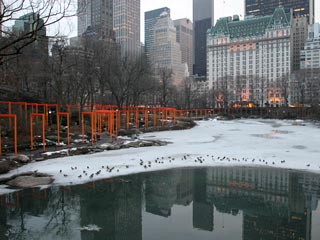 Christo's Gates around the Central Park's Pond, with Plaza Hotel. 9 February 2005.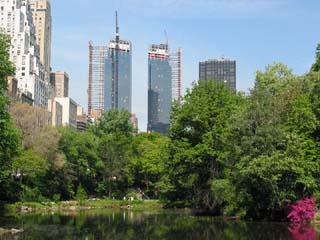 The view on Time Warner Center across Central Park's Pond on 20 May 2003.