The Arsenal is one of only two buildings within the Park walls that predate the Park (the other being the Block House built in the Northern Park for the War of 1812). Today the Arsenal houses the offices of the City of New York Parks and Recreation and the Central Park Wildlife Conservation Center. And it is the current home of the "Greensward Plan," the original blueprint for Central Park created and drafted by Frederick Law Olmsted and Calvert Vaux.
The Arsenal was built between 1847 and 1851 as a munitions supply depot for New York State's National Guard. The Guard chose the site because at that time it afforded an overview of the City to the south, and could offer swift troop transport via the New York and Harlem Railroad. It is a picturesque Landmark brick building designed to look like a medieval castle, complete with eight battlements. More decorative flourishes were added in 1935 with painted white "muskets" to support the stairway railing and cast iron replicas of military drums to either side of the door. WPA artist Allan Saalburg painted murals for the two-story lobby, depicting a montage of park scenes and troops in military formation.
The treasure of the Arsenal is not the building itself, but the original rendering by Olmsted and Vaux of the Greensward Plan. Under glass in a large third floor conference room, the Greensward Plan is testimony to the vast scale of the Park and to the vision that went into creating one of the country's most important public spaces.
Resources
Pictures of the Arsenal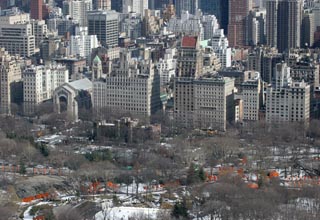 The Arsenal and Christo's Gates. 10 March 2005.