About Queens
If you arrived in JFK or LaGuardia airports, you've already visited Queens, New York City's second most populous borough. Although it ranks second population wise, Queens is the largest geographic area of the city, covering 178 square miles. Divided into many neighborhoods, residents often share tight knit community spaces and strong relationships with their neighbors.
The borough is a quilt of ethnic areas. It has been said that Astoria, a charming neighborhood desired for its proximity to Manhattan, is the largest population of Greeks outside of Greece. Howard Beach and Middle Village are largely populated by Italian-Americans, Rockaway beach by Irish-Americans, and Maspeth with a growing Polish crowd. Other areas, such as Ozone Park, Bayside, and Kew Gardens, are home to strong communities of Israelis, Tibetans, and African Americans.
Those looking to watch a baseball game will want to check out Shea Stadium, home of the Mets. If visiting in late summer, catch the U.S Open, and if spending spring in New York, make sure to visit the Queens Botanical Gardens. Other attractions include the Aqueduct Racetrack, P.S. 1 Contemporary Arts Center, and Rockaway Beach, America's longest municipal beach, with almost ten miles of shoreline.
Queens Neighborhoods
Astoria, Astoria Heights, Ravenswood, Steinway
Queens West, Hunters Point, Long Island City, Sunnyside Gardens, Sunnyside, Blissville, Woodside
Jackson Heights, East Elmhurst, North Corona
Elmhurst, Lefrak City, South Corona
Maspeth, Ridgewood, Middle Village, Glendale
Rego Park, Forest Hills, Forest Hills Gardens
Woodhaven, Richmond Hill, Kew Gardens
Ozone Park, Lindenwood, Howard Beach, South Ozone Park
College Point, Malba, Beechhurst, Whitestone, Bay Terrace, Murray Hill, Downtown Flushing, Queensboro Hill
Kew Gardens Hills, Pomonk, Utopia, Fresh Meadows, Hillcrest, Briarwood, Jamaica Hills, Jamaica Estates, Holliswood
Auburndale, Bayside, Little Neck, Douglaston, Oakland Gardens
Jamaica Center, South Jamaica, St. Albans, Hollis, Rochdale
Glen Oaks, Floral Park, Bellaire, Bellerose, Queens Village, Cambria Heights, Laurelton, Springfield Gardens, Brookville, Rosedale
Far Rockaway, Edgemere, Arverne, Somerville, Broad Channel, Seaside, Rockaway Park, Belle Harbor, Neponsit, Breezy Point
See Also
Queens Parks
Flushing Meadows / Corona Park
Forest Park
Alley Pond Park
Cunningham Park
Gantry Plaza State Park
Airports
JFK Airport
LaGuardia Airport
Discover Queens
PS 1 Contemporary Art Center
American Museum of the Moving Image
Related Pages
Pictures of Queens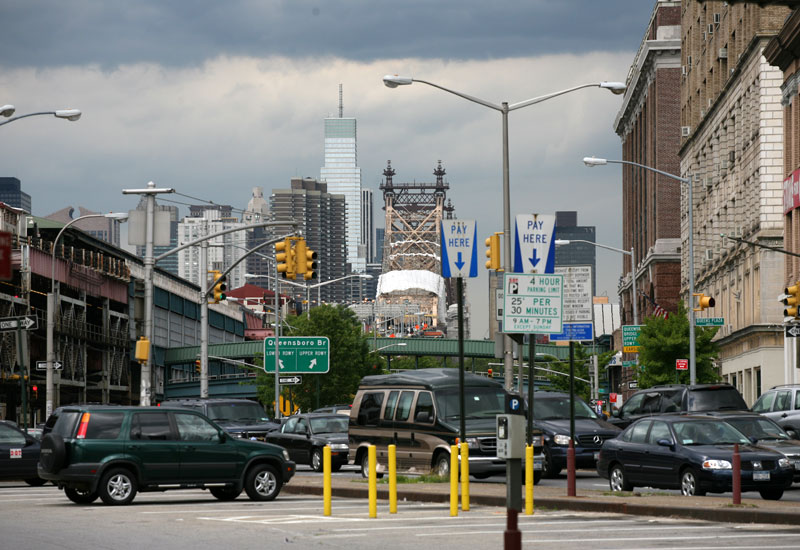 Queens Plaza in May of 2006, with Queensborough Bridge and Bloomberg Tower.