Location 330 Spring Street, corner of Washington Street, Google Maps
Neighborhood Soho
Interiors and lobby Anabelle Selldorf
The latest plan for 330 Spring St., which Vendome released recently, is for a 120-foot building, described as an "Urban Glass House" to contrast with one of Johnson's most famous designs, his Glass House in Connecticut. Johnson, 97, collaborated with his partner, architect Alan Ritchie, on the design, which would preserve the adjacent James Brown House, the historic home of the Ear Inn.
Community
Discuss 330 Spring Street at Wired New York Forum
Pictures of 330 Spring Street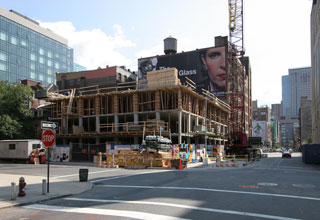 Urban glass house – at 330 Spring Street. 11 September 2005.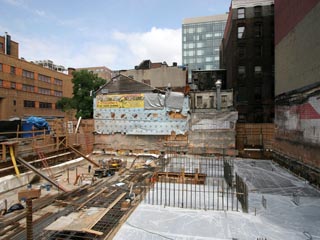 Construction of 330 Spring Street. 16 July 2005.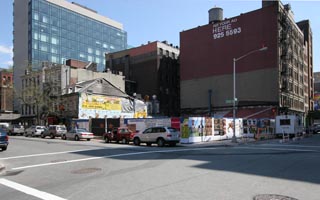 The site of 330 Spring Street, with the glass of 505 Greenwich on the left. 1 May 2005.