Frederick Phineas and Sandra Priest Rose Center For Earth and Space, American Museum of Natural History
Located at Central Park and 79th Street
Architect: Polshek Partnership Architects, LLP
From AIArchitect:
The jury's response to the Rose Center for Earth and Space, the expansion of the American Museum of Natural History's planetarium was heavenly: "This is a most beautiful manmade space," they said. "It offers a range of environments, from cave-like to celestial."
The architects explain that this renovation and expansion of an existing planetarium redefines the image of the American Museum of National History while simultaneously maintaining the integrity of the landmark structure designed and built incrementally over the course of a century.
Both a universal symbol of astronomy and a "resonant platonic form," the project's new sphere is the programmatic and iconic heart of the project's architectural concept, the architects said. "Critical to the design concept is the sphere's apparent disengagement from the enclosing structure and from its transparent curtain wall and the cantilevered spiral ramp encircling the sphere." The ramp connecting the building's upper and lower levels inserts an asymmetry that adds excitement to the composition.
"The urban contribution of this design is in its transparency and its visual engagement of its surroundings, with views into and from within the main space," the jury said. "The power of the idea—the sphere in a cube—makes the space immediately comprehensible."

Website of the American Museum of Natural History.
Pictures of Rose Center For Earth and Space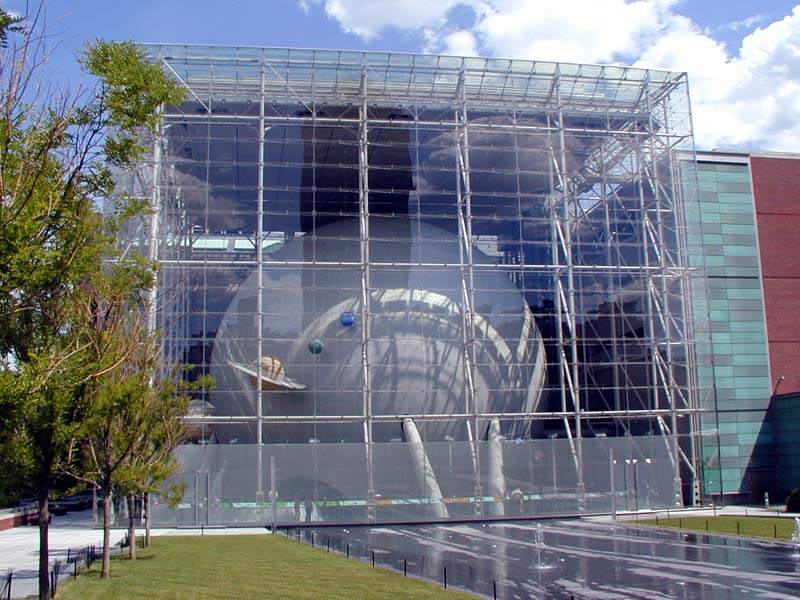 Rose Center For Earth and Space.