Up through the 1800's, ferries were the only way to get to and around Manhattan. As bridges and tunnels were built, ferry transportation faded. In 1986, Arthur E. Imperatore and his family rejuvenated the NY Harbor with the launch of the first NY Waterway boat. Since then, NY Waterway has carried over 40 million passengers. NY Waterway has the largest ferry and excursion fleet in the NY Harbor, but it is still a family business with all the personal attention to service and amenities that it had when it was just Arthur's ferry.
Community
Discuss NY Waterway at Wired New York Forum
See Also
Pictures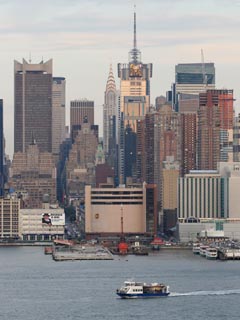 New York Waterway ferry crossing Hudson River at sunset, with skyscrapers of Manhattan.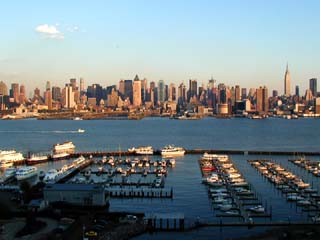 The view of the New York Waterway's ferry and Manhattan from the Alexander Hamilton Park in Weehawken, NJ.