The Port Imperial Ferry in Weehawken, New Jersey is a stunning marriage of marine engineering and architecture. Serving New York Waterway ferry passengers, the 33,000 square foot facility on the Hudson River with its retail facilities, staff offices and crew areas, ticket counters, passenger services, double-height waiting room and end-loading ferry slips, will accommodate as many as 20,000 commuters each day.The terminal's landward entry is structured around an intertidal estuary garden composed of native hydroponic vegetative species found in the Hudson River.This intermodal terminal will serve as the New Jersey gateway from the New York Ferry Terminal at West 38th Street, with a connection to the Hudson-Bergen County Light Rail system 300 feet southeast. A major commuter facility, it is anticipated that the terminal will significantly reduce tunnel and bridge traffic. Following a long tradition as an important trans-Hudson transportation node, the site concept coordinated the arrival/departure for Park 'n Ride, light rail, planned bus connections and pedestrians.
Community
Discuss Port Imperial Ferry Terminal at Wired New York Forum
Pictures of Port Imperial Ferry Terminal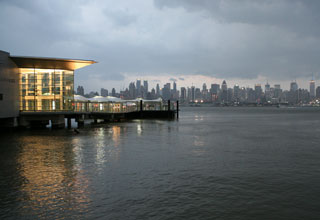 Port Imperial Intermodal Ferry Terminal. 30 June 2006.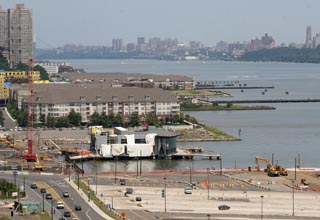 Port Imperial Intermodal Ferry Terminal. 24 July 2005.