New Books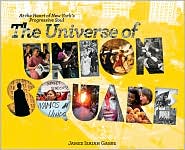 The Universe of Union Square, James Gabbe
A cavalcade of momentous events and personalities recounted definitively for the first time. Nearly 1,000 images and a companion video presenting one-of-a-kind commentary of city officials community activists, business leaders, academics, clerics, artists and many more who trip the light fantastic in and around Union Square.
The history of the Big Apple has been documented many times over in many diverse ways, including books, photographs, and songs. But in this lavish, beautiful volume, Thomas Kramer offers a new perspective, telling the story of New York through Andreas Adam's vast collection of rare picture postcards that recount the city's changing identity and culture over the last century. The nine hundred well-preserved, vintage cards in New York in Postcards 1880–1980 bring to life the look and feel of their eras in concise visual statements.
Iconic images of the city from one of the masters of photography collected for the first time in a charming homage to lost New York. Here is "The City of Ambition"—the New York that inspires dreams, the Gotham of the early twentieth century, when grand skyscrapers sprouted everywhere amid columns of steam. Alfred Stieglitz—the legendary art impresario and husband of Georgia O'Keeffe—forged a paean to his native city, finding inspiration on the streets, from the harbor ferry, and in the high-rise views.
The greatest buildings, monuments, and structures of New York come to life in these inspiring, neighborhood-by-neighborhood photographic tours. Each building is featured in a rich, fine-resolution duotone photograph. Information including the building's name, its address and location, and year of completion or renovation is included underneath the image. A brief description of each building, which highlights its distinctive features and places it in historical context, is included at the back of the book.
This book presents the epic story of New York in photographs, photo-portraits, maps, and aerial views—nearly 600 pages of emotional, atmospheric images, from the mid-19th century to the present day. Supplementing this treasure trove of images are hundreds of quotations and references from relevant books, movies, shows and songs. The city's fluctuating fortunes are all represented, from the wild nights of the Jazz Age and the hedonistic disco era, to the grim days of the Depression and the devastation of 9/11 and its aftermath, as its broken-hearted but unbowed citizens picked up the pieces.
Published early and available now, the 5th edition of the AIA Guide to New York City, in both hardcover and paperback:
40,000 Photos Later, an article about how the AIA Guide comes together.
Moving beyond the usual good-versus-evil story that pits master-planner Robert Moses against the plucky neighborhood advocate Jane Jacobs, Samuel Zipp sheds new light on the rise and fall of New York's urban renewal in the decades after World War II. Focusing on four iconic "Manhattan projects"–the United Nations building, Stuyvesant Town, Lincoln Center, and the great swaths of public housing in East Harlem–Zipp unearths a host of forgotten stories and characters that flesh out the conventional history of urban renewal. He shows how boosters hoped to make Manhattan the capital of modernity and a symbol of American power, but even as the builders executed their plans, a chorus of critics revealed the dark side of those Cold War visions, attacking urban renewal for perpetuating deindustrialization, racial segregation, and class division; for uprooting thousands, and for implanting a new, alienating cityscape. Cold War-era urban renewal was not merely a failed planning ideal, Zipp concludes, but also a crucial phase in the transformation of New York into both a world city and one mired in urban crisis.
Its official name is the Fuller Building, but for the past century, the oddly triangular building that, to quote H. G. Wells, "ploughs up traffic" at the intersection of Broadway, Fifth Avenue, and 23rd Street in Manhattan, has been known to most people as the Flatiron. As shown by Alexiou, whose grandfather was once a co-owner of the building, the history of the Flatiron is a tale as much about architectural innovation as it is about the larger-than-life personalities who designed and financed the 22-story landmark. Among the latter are Daniel Burnham, the visionary who designed the steel-framed structure (one of the city's first) in the Chicago school style; Harry Black, the "charming and ruthless" president of the Fuller Company; and Samuel Parks, the vindictive labor leader who ran afoul of the law. The most prominent character of this drama, however, may be turn-of-the-century New York City itself, beginning to flex its massive commercial muscles at the outset of the era of enormous skyscrapers. Engaging and panoramic, Alexiou's narrative is not just for architecture buffs. –Brendan Driscoll
America's Mayor: John V. Lindsay and the Reinvention of New York

by Sam Roberts (editor)
Edited by The New York Times urban affairs correspondent Sam Roberts and published in collaboration with the Museum of the City of New York, America's Mayor is lavishly illustrated and features original essays by Hilary Ballon, Joshua Freeman, Jeff Greenfield, Pete Hamill, Charlayne Hunter-Gault, Kenneth T. Jackson, John Mollenkopf, Charles Morris, Nicholas Pileggi, Richard Reeves, James Sanders, and Steven Weisman. Key contemporaries such as Jimmy Breslin, Mario Cuomo, and Juan Gonzalez offer personal reminiscences enhanced by compelling documents and articles. With his undeniable charisma and bold support for cities and urban living, Lindsay galvanized the attention of a nation at a time of looming crisis. This collection vividly reexamines the truth behind Lindsay's reputation as a failed dreamer and the forces that transformed him into America's mayor.
Coming Soon
Architecture
Clearly modeled on Eugene Atget's meticulous documentation of Parisian architecture high and low, former New York Times photographer Jorg Brockmann's One Thousand New York Buildings captures, if not always from ideal angles, everything from the Little Church Around the Corner (on E. 29th St.) to the Russian Tea Room, the Enid A. Haupt Conservatory (at the New York Botanical Garden) and the Jamaica Business Resource Center in Queens. Uptown apartment buildings such as the Dakota and 1001 Fifth Avenue share covers with the Police Building Apartments downtown and Crotona Terrace in the Bronx. Every borough is represented in more than 1,000 four-to-a-page b&w photos and short descriptions of each building by Bill Harris, author of 17 books about New York, including a history of the Plaza Hotel. — Reed Business Information, Inc.
AIA Guide to New York City (4th edition)

by Norval White and Elliot Willensky
A definitive record of New York's architectural heritage . . . a witty and helpful pocketful which serves as arbiter of architects, baedeker for boulevardiers, catalog for the curious, primer for preservationists, [and] sourcebook to students. For all who seek to know of New York, it is here.
No home should be without a copy. — Municipal Art Society
New York in Photographs
Street Level collects 20 years of documentary and commercial photography by esteemed New York photographer Sue Kwon. Her subjects include some of Hip Hop's finest, such as the Beastie Boys, Biggie Smalls and the Wu-Tang Clan, as well as portraits and street scenes from New York's most charismatic neighborhoods–Little Italy, Chinatown, Coney Island, the Lower East Side and a pre-Guiliani Times Square. These black-and-white images, characterized by an evident fondness for the lives they depict, are populated with recruits from all realms and occasions, from shoe-shiners to inmates at the Rahway State Prison to newlyweds and strippers between sets at the infamous Sue's Rendezvous. As direct and candid as their subjects, Sue Kwon's photographs share a kinship with those of the legendary New York documentary photographer Helen Levitt.
New York 400: A Visual History of America's Greatest City with Images from The Museum of the City of New York

by The Museum of the City of New York
Store Front: The Disappearing Face of New York

by James T. Murray, Karla L. Murray
New York's storefronts constitute the city's vernacular architecture, shaping the look and feel of the five boroughs no less than more celebrated elements of the skyline. These unfussy, elegant, and richly colored photographs of butcher shops, bakeries, fabric wholesalers, cuchifritos stands, stationery and sporting-goods stores, laundromats, groceries, and dive bars give connoisseurs of signage, folk typography, and ambient erosion much to pore over. —The New Yorker
>>> more Photography
Neighborhoods
Both an official NYC guide and a celebration of the city, this book is the ideal travel companion for both tourists and resident tourists. Complete "how-to" information shows where to eat and shop, as well as how to get there. More than 20 neighborhoods are covered in full detail, including Chinatown, Little Italy, Little Odessa, Little Senegal, Little India, Little Poland, and Koreatown, among others. A comprehensive travel guide to the worlds within New York City, this book includes photographs, maps, and a historical background of the ethnic neighborhoods within the five boroughs.
The Arts, Culture and Entertainment
Madison Square Garden bills itself as the "world's most famous arena," and taking in this nostalgic tome makes it easy to see why: since the original arena's 1879 inception, it has witnessed a remarkable array of sports, entertainment and even religious events. In his introduction, writer Hamill (Forever; etc.) chronicles the evolution of the Garden from a "drafty old building" that hosted P.T. Barnum's circus, through its opulent 1890 redesign by Stanford White, to the current model, unveiled in 1968. He deftly demonstrates how the physical changes, in location as well as building, the Garden has undergone over the years reflect New York's changing perception of itself from growing city to "gilded" metropolis, gangster's party town to capital of the world. Hamill's piece gives way to official Garden photographer Kalinsky's photos (as well as some non-Kalinsky images from as far back as 1920), which cover the entire spectrum of photographic styles as well as the diverse types of events that have called the Garden home, if only for a night. Short essays by entertainers (Woody Allen, Spike Lee, Billy Crystal), athletes (George Foreman, Peggy Fleming, John McEnroe) and other high-profile friends-of-the-Garden round out the volume. Although there are no behind-the-scenes or unusual photos here, this is still a bubbly, impressive chronicle of a New York landmark. — Reed Business Information, a division of Reed Elsevier Inc.
Writers have described New York City since the harbor was discovered in 1524. Artists have captured its every sparkle and shadow. In New York, New York, paintings, prints, photographs, postcards, and other works of art from the Museum's encyclopedic collections have been sensitively paired with writing that celebrates the city, including poems, letters, fiction, and memoirs.
Lavishly illustrated, New York Sights surveys the formative period when a nostalgically evoked "Old New York" transformed into "New New York," ultimately becoming the modernist city of the twentieth century. Drawing on photography, film, and painting, the author considers the changing skyline, the grid-plan, the growth of the elevated train, the homes of the leisure classes, and city streets. Among the artists discussed are: Alfred Stieglitz, Jacob Riis, Georgia O'Keefe, John Sloan, Childe Hassam, and George Bellows. The conclusion looks at the post World War II period and the shocking visual reality of a New York skyline without the Twin Towers.
New York in Movies and TV
Manhattan on Film 2: More Walking Tours of Location Sites in the Big Apple (No. 2)

by Chuck Katz
History, Infrastructure and Politics
>>> more History, Infrastructure and Politics
Sporting New York
Visiting and Living in New York
New York's Unique & Unexpected Places is written for adventurers and dreamers who want to explore the city's uncommon, but fascinating, less familiar sites. This beguiling book will delight urban enthusiasts, New Yorkers, and the countless tourists determined to discover—and sometimes rediscover—these fifty memorable destinations. Visit a cutting-edge center for architecture, a Dutch farmhouse surprisingly perched on Broadway, the sublime chapel designed by Louise Nevelson, idiosyncratic museums dedicated to finance and firefighting and subway cars, the historic home of Louis Armstrong, and a spectacular garden overlooking the Hudson.
Off the Beaten (Subway) Track: New York City's Best Unusual Attractions

by Suzanne Reisman
Time Out New York (Time Out Guides)

by the Editors of Time Out
Blue Guide New York (Fourth Edition) (Blue Guides)

by Carol von Pressentin Wright
New York (Everyman Guides)

by Everyman Guides
Frommer's 24 Great Walks in New York

by Michelle and James Nevius (editors)
New York Walks, 2nd (On Foot Guides)

by Jane Egginton, Nick O'Donnell
Somewhat out of date now, but still interesting:
Time Out Book of New York Walks (Time Out Guides)

by Andrew White (editor)
Walking New York

by George Spelvin, Eve Devereux
Maps
Mapping New York is a fascinating and richly illustrated survey of the urban and social history of New York City. Features maps dating back to the sixteenth century, when New York was founded by the Dutch as a commercial trading post and became known as New Amsterdam, right up to the present day. Mapping New York provides a pictorial history of the city—contextualizing its time as a leader in commerce and one of the most built up urban areas in the world. The maps are arranged thematically, focusing on the last two centuries, charting the city's population, military history, transport, commerce and crime. The book includes a large range of maps including the latest satellite imagery, future projections on the growth of the city, iconic images such as the subway maps as well as artists' representations. Mapping New York is an essential book for anyone with an interest in the city.
Manhattan in Maps: 1527-1995

by Paul E. Cohen and Robert T. Augustyn
Manhattan Block by Block: A Street Atlas

by John Tauranac
The unique Manhattan Block by Block Atlas gives you block-by-block maps plus individual maps showing streets, places of interest, subways, and buses; information on city streets; house numbering; neighborhoods; public transportation, plus a street and general index.
New York: The Photo Atlas

by Getmapping
New York: The Photo Atlas combines exquisite aerial photography and detailed street atlas maps to provide a truly unique perspective of the city — high above the concrete.
New York in Fiction
Rutherfurd celebrates America's greatest city in a rich, engrossing saga that showcases his extraordinary ability to combine impeccable historical research and storytelling flair. As in his earlier, bestselling novels, he illuminates cultural, social, and political upheavals through the lives of a remarkably diverse set of families.
As he recounts the intertwining fates of characters rich and poor, black and white, native born and immigrant, Rutherfurd brings to life the momentous events that shaped New York and America: the Revolutionary War, the emergence of the city as a great trading and financial center, the excesses of the Gilded Age, the explosion of immigration in the late nineteenth and early twentieth centuries, the trials of World War II, the near-demise of New York in the 1970s and its roaring rebirth in the '90s, and the attacks on the World Trade Center. Sprinkled throughout are captivating cameo appearances by historical figures ranging from George Washington to Abraham Lincoln to Babe Ruth.
>>> more Fiction