Two developers known for residential projects have bought the Domino Sugar refinery in Williamsburg, ending a rich chapter of Brooklyn's industrial waterfront history.
C.P.C. Resources, the development arm of the Community Preservation Corporation, a lending consortium of banks and insurance companies best known for financing rehabilitations of older apartments, and Isaac Katan, a Brooklyn developer who has helped gentrify Fourth Avenue in Park Slope, have bought the land and the buildings of the all-but-shuttered plant, said Lloyd Kaplan, a preservation corporation spokesman.
The developers would not say how much they paid for the property or what they planned to do with it, instead releasing a statement saying that they "look forward to working with the community and the city as we develop our plans for the site."
The Domino plant, with its distinctive neon sign looming over the East River just north of the Williamsburg Bridge, had been operating since the 1880's and was acquired in 2001 by American Sugar Refining.
Community
Discuss Domino Sugar Plant at Wired New York Forum
Pictures of Domino Sugar Plant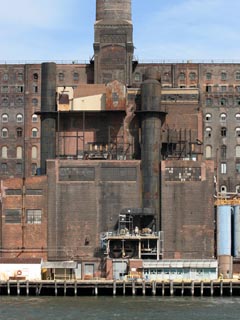 Domino Sugar Plant.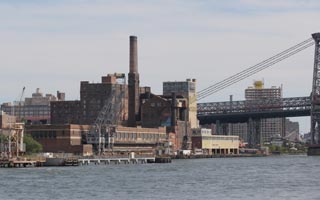 Domino Sugar Plant.