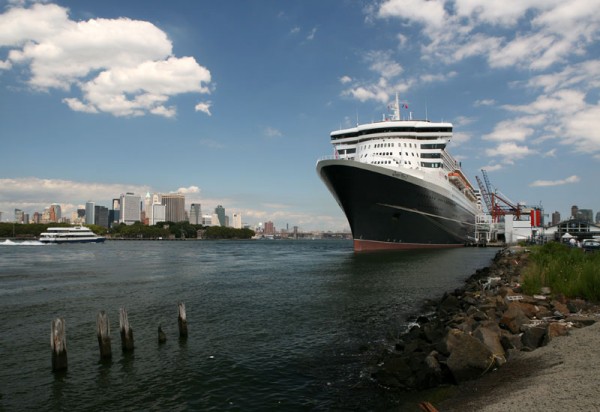 Cunard, the first company to provide regular transatlantic passenger steamship service, is now the last. Steeped in 160 years of tradition in transatlantic service by the greatest liners in history, Cunard Line today operates a fleet of three British-flagged liners: Queen Elizabeth 2 (QE2), Caronia, and Queen Mary 2 (QM2).
QE2 is arguably the most famous ship on earth, and until recently was the only liner still operating regularly scheduled transatlantic service (QM2 recently took on the responsibility). Caronia is a medium-sized ship of traditional design, with a true promenade deck and a loyal international following. Cunard's newest addition, QM2, is a transatlantic liner with full art deco styling,
the largest maritime museum in the world, and a huge spa. At over 150,000 tons, she's the largest ship afloat and is propelled by the world's first four-pod propulsion system, utilizing two fixed and two rotating propulsion pods that enable her to cruise at nearly 30 knots. Construction cost is estimated in excess of $750 million.
Carnival Corporation purchased Cunard Line in 1998 and spent millions updating the look of both QE2 and Caronia. The line's expansion plans include the recent addition of QM2 and the construction of a new 1,968-passenger ship, Queen Victoria, due in 2005.
Cunard Line recently began to market Caronia exclusively to a British market. The ship now focuses on voyages out of the UK and throughout Europe, from the Norwegian fjords to the Mediterranean.
Ships
Queen Mary 2 is the largest (151,400 tons), longest (1,132 feet/345 meters), tallest (236 feet/72 meters), widest (135 feet/41 meters) and most expensive ($800 million) liner ever built. It is also the first true transatlantic liner to have been built since Cunard's famous Queen Elizabeth 2 entered service in May 1969.
Find a cruise
Search for Cunard Line cruises on Expedia
See Cunard Line Ships Live
See Queen Mary 2 in New York on Wired New York webcam
Resources
Pictures of Cunard Line ships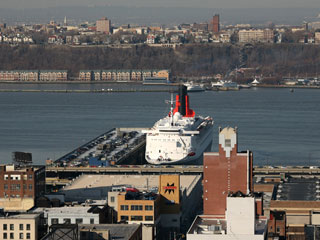 Queen Elizabeth 2 at New York Cruise Terminal on 9 January 2006. The next time QE2 returns to New York – on 19 September 2006 – it will be berthed at Red Hook Cruise Terminal in Brooklyn.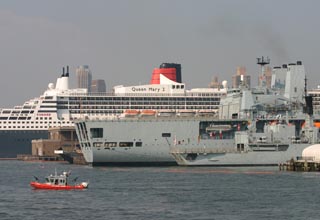 The Queen Mary 2 (QM2) and Royal Fleet Auxiliary Fort George (A388) berthed in New York. 5 July 2004.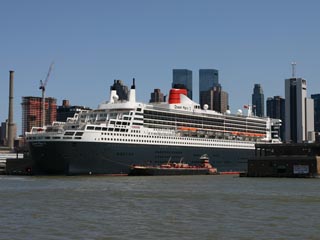 The Queen Mary 2 (QM2) berthed at Pier 92 in New York City, 24 April 2004.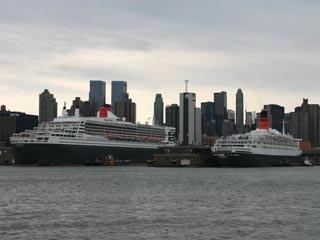 The Queen Mary 2 (QM2) and the Queen Elizabeth 2 (QE2) in New York City, 25 April 2004.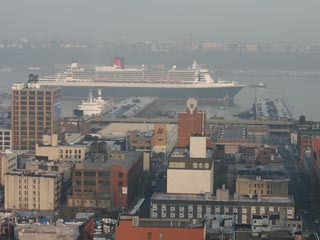 The Queen Mary 2 (QM2), the world's grandest luxury liner, arrives April 22, 2004 for the first time at her U.S. home port of New York City.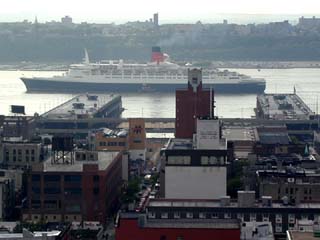 Queen Elizabeth 2 leaves the port of New York. 19 May 2001.