About Princess Cruises
What began as the little cruise line that could, operating one small luxury liner between Los Angeles and the Mexican Riviera (and later Alaska) in 1965, evolved into a cruise industry giant, with more than 10 ships sailing about 150 itineraries around the globe. Princess Cruises' 109,000-ton Star Princess, sister ship to the popular Grand Princess and Golden Princess, made her debut in March 2002, and the company currently has four more ships under construction or on order. Meanwhile, Princess recently announced the departure of Ocean Princess and Pacific Princess from the fleet.
The cruise division of The Peninsular and Oriental Steam Navigation Company de-merged from P&O to form a separate company in October 2000. The resulting new cruise company, P&O Princess Cruises, plc, is headquartered in London and is listed on both the London and New York stock exchanges. P&O Cruises and the new company's U.S. business, Princess Cruises, are two of the best-known brands in the industry. P&O Cruises is the UK's foremost cruise company, while Princess is the leading U.S. operator in Alaska and Europe, and has a powerful and expanding presence in the Caribbean. With the inclusion of Aida Cruises, Germany's fastest growing cruise company, and the group's cruise interests in Australia, P&O is the most international of any cruise company.
Ships
Golden Princess, Grand Princess, Coral Princess, Star Princess, Dawn Princess, Sun Princess, Regal Princess, Royal Princess, Tahitian Princess, Pacific Princess, Island Princess
Find a cruise
Sailing Dates from New York
From Brooklyn Cruise Terminal in Red Hook
Caribbean Princess – 7/08/09, 7/17/09, 7/26/09, 8/04/09, 8/13/09, 8/22/09, 8/29/09, 9/05/09, 9/12/09, 9/19/09, 9/26/09, 10/03/09, 10/10/09, 10/17/09, 10/24/09
Crown Princess – 9/23/09, 10/13/09, 11/02/09
Tahitian Princess – 7/25/09, 8/28/09
Resources
Pictures of Princess Cruises ships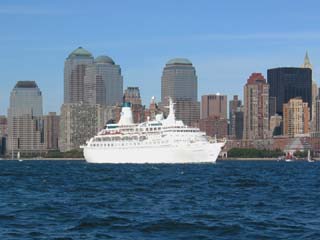 Cruise ship Pacific Princess on the way to Bermuda, with downtown Manhattan and World Financial Center in the background.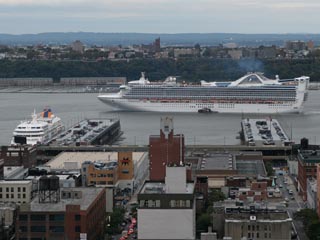 Cruise ship Grand Princess leaves the port of New York for New England cruise on 10 October 2004.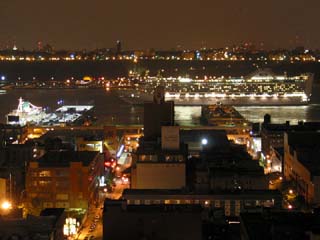 Cruise ship Golden Princess leaves the port of New York for Canada and New England on 15 September 2002.