1568 Broadway at 47th Street, Google Maps
Trip Advisor review of Doubletree Guest Suites Times Square
Reservations
Make reservations for Doubletree Guest Suites Times Square at Hotels.com
Description
The only all suite hotel in the "New" Times Square, this 43 story hotel with it's spectacular glass facade and bright lights, sums up everything visitors want when they come to New York City. The pace never slows in New York City and Doubletree Guest Suites puts you right in the middle of the bustle and excitement. You're next door to the theaters of Broadway, close to fantastic restaurants, and minutes from spectacular Fifth Avenue Shopping,
Lincoln Center and Manhattan's most renowned museums. The "New" Times Square has become home to approximately 5,000 businesses including MTV, Viacom, the New York Times, Morgan Stanley, and Polygram Records. Each of our 460
suites features a living room, dining area and private bedroom. Standard in all suites is a wet bar, refreshment center, microwave, in-room safe, iron and ironing board, hair dryer, refrigerator, three telephones (two with voice mail), two televisions, and coffeemaker. Complimentary coffee and newspaper are provided daily. High speed Internet access is now available in all our suites.We offer these spacious well-appointed accommodations often at a rate comparable to a standard room at another property.
Pictures of Doubletree Guest Suites Times Square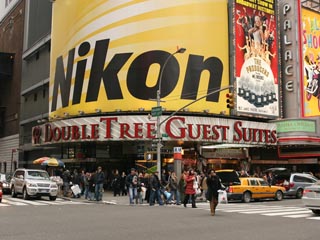 The corner of Seventh Avenue and 47th Street.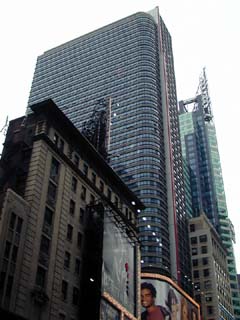 The view on Doubletree Guest Suites Hotel from 7th Avenue.
Check Harris Scarfe Catalogue and Myer Catalogue.