This hotel is now The Manhattan at Times Square Hotel.
790 Seventh Avenue, Google Maps
Telephone 212-581-3300
Trip Advisor review of Sheraton Manhattan at Times Square
Reservations
Make reservations for Sheraton Manhattan at Times Square at Hotels.com
Pictures of Sheraton Manhattan Hotel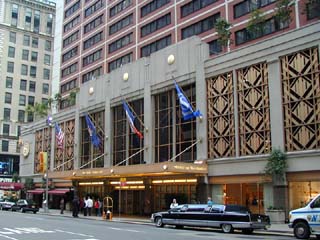 The view on the Sheraton Manhattan at Times Square from 7th Avenue.
Description
Sheraton Manhattan Hotel is within walking distance of 5th Avenue, Broadway theaters, Central Park and Rockefeller Center; easily accessible from Newark, JFK & LGA airports.
Ideally located for both business and leisure travel, the 22-story hotel features 654 Standard and Club Level guestrooms including 7 suites; non-smoking and disabled facilities; The Sheraton Manhattan provides business class rooms and an exclusive Club Lounge for Club Level guests.