811 Seventh Avenue, Google Maps
Telephone 212-581-1000
Trip Advisor review of Sheraton New York Hotel and Towers
Reservations
Make reservations for Sheraton New York Hotel and Towers at Hotels.com
Pictures of Sheraton New York Hotel and Towers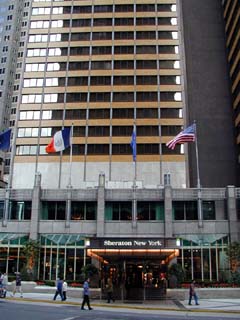 The view on the Sheraton New York Hotel and Towers from Seventh Avenue.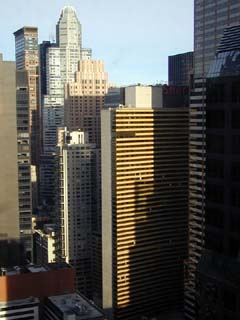 The view on the Sheraton New York Hotel and Towers from the Crowne Plaza Hotel. On the left are Carnegie Hall Tower and Cityspire.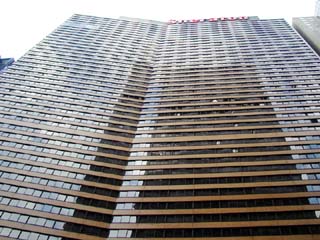 The view of the Sheraton New York Hotel & Towers from West 52nd Street.
Description
Location. The Sheraton New York Hotel and Towers is located in New York, N.Y., adjacent to the 7th and 53rd subway station. The hotel is one block from Broadway theaters. The Museum of Modern Art and Radio City Music Hall are three blocks away. St. Patrick's Cathedral is four blocks from the hotel. Central Park is seven blocks away.
Hotel Features. The Sheraton New York Hotel and Towers features the Atlantis Fitness Center that includes cardiovascular and weight-training equipment, and saunas. Services include massage therapy, personal trainers and yoga classes. Library Bar features mahogany paneling, antique hand-knotted Persian rugs and leather chairs. The Lobby Restaurant and Avenue Restaurant serve American cuisine. Hudson Bar provides flat-screen televisions and high-speed Internet access for a fee. Starbucks Coffee is available in the eatery adjacent to the Hudson Bar. The hotel's business center offers computer stations and high-speed Internet access.
Guestrooms. The hotel's 1750 guestrooms feature Sheraton Sweet Sleeper Beds. Bedding includes a choice of feather-and-down or hypoallergenic pillows, 230-thread count sheets and fleece blankets. Complimentary Sheraton Sweet Sleep Dog Beds, goodie bags and water bowls are provided for pets. Room service is available 24 hours. High-speed, wired Internet access is provided for a fee. In-room safes are complimentary and laptop compatible.
Expert Tip. The hotel's Lobby Theater Desk offers tickets to must-see shows at Radio City Music Hall, Carnegie Hall and Rockefeller Center. Plus, the staff can assist with must-have Broadway tickets to theaters within easy walking distance of the hotel.