Bow Bridge is one of the most handsomely designed cast iron bridges in the world. It spans sixty feet across the Lake, linking the cultivated and flowering landscape of Cherry Hill with the rustic and sprawling woods of the Ramble. Its proportions and sinuous length inspired one visitor to remark that the bridge looked "poured" over the Lake.
Calvert Vaux, Frederick Law Olmsted's partner, designed Bow Bridge in 1859, mindful of the flexible engineering properties of iron. Vaux and Olmsted generally preferred that bridges and arches in Central Park be crafted from natural materials – such as granite and brownstone with brick, or bluestone, or warm Nova Scotia sandstone. Using these natural materials, they argued, would soften the intrusion of a manmade structure into the Park's "natural" setting. But in the case of Bow Bridge, cast iron was a clear ally in their design efforts; it allowed them to build a bridge that served as the perfect transition
between the emphatically architectural statement of Bethesda Terrace and the abundant randomness of the Ramble.
City commissioners overseeing the building of Central Park also welcomed Bow Bridge, but they had a simpler reason: cost. By 1859, the commissioners projected that it would cost at least $3.6 million to build the Park – twice the authorized budget! While Olmsted and Vaux debated the aesthetic qualities of building materials, some commissioners eyed only the bottom line. The most cost-effective material for building bridges at that time was cast iron, since it eliminated masons' and stonecutters' labor costs.
The true "value" of Bow Bridge, completed in 1862, does not lie in construction ledgers, however, but in its extraordinary visual effect. It has been the romantic setting for wedding proposals, classic film shoots, and the choice of many photographers who want to capture one of the signature design features of Central Park.
Resources
Pictures of Bow Bridge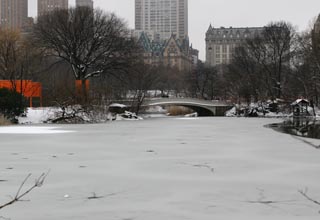 Bow Bridge and Christo's Gates. The building beyond – The Dakota. 21 February 2005.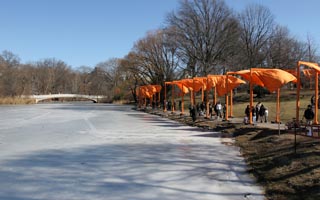 Bow Bridge and Christo's Gates. 13 February 2005.