Cherry Hill offers a Bethesda Terrace experience in miniature. From the rise of Cherry Hill, you also can see across the Lake to the abundant landscape of the Ramble. And just as Bethesda Terrace invites you and delights you visually with its Victorian ornament, so the Cherry Hill Fountain serves as a decorative arts destination in its own whimsical right.
Jacob Wrey Mould, Calvert Vaux's assistant, designed the decorative elements for Bethesda Terrace in 1859 and also is responsible for the fountain at Cherry Hill. He clearly pulled out all the stops for this 1860's creation. The ornamental finial on the fountain's top, the gilded cups brimming over with water, the frosted glass globes for lighting, a sculpted bluestone basin inset with Minton tiles – all in the service of a watering trough for horses. Cherry Hill was intended to be a scenic turn-around for carriages, a place to admire the surrounding cherry trees in springtime bloom and take in the lakeside view.
Resources
Pictures of Cherry Hill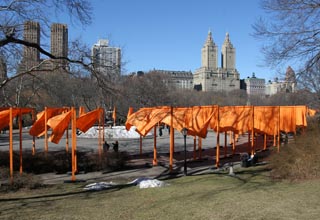 Cherry Hill and Christo's Gates, with San Remo Apartments in the background.
13 February 2005.