Location: 116 Hudson Street, Google Local Map
Neighborhood: Tribeca
Now even Robert De Niro's gotten in on the luxury condo business.
Staying true to his beloved TriBeCa (the two-time Academy Award-winner has been involved in the restaurants Tribeca Grill and Nobu, and he created the Tribeca Film Festival), he's now behind a new complex on Hudson Street.
De Niro's newest project, a venture with AFC Realty Capital, is The Loft Residences at 116 Hudson St., a luxury condo venture that stretches across two buildings. One is an old, 19th-century landmark, the other is a still-unfinished, state-of-the-art, seven-story glass-and-steel residence.
The older half of the duo dates from 1887; it is a red-brick-and-cast-iron building whose interior is being completely gutted.
Community
Discuss 116 Hudson Street at Wired New York Forum
Pictures of 116 Hudson Street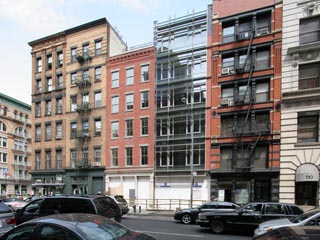 116 Hudson Street. 16 July 2005.