15 William Street, northwest corner of William and Beaver Sts, Google Maps
319 condominium apartments, 47 stories
Architect Tsao & McKown Architects
The Manocherian family started construction of a rental building on this site in 2004. In October of 2005, 15 William St was sold to SDS Investments for $90 million, who invited Andre Balazs to co-develop and brand the property.
The William Beaver House (so named because it's at the intersection of William and Beaver streets), designed by Tsao & McKown Architects, will rise 47 stories on one corner of a five-pointed intersection just across the street from Delmonico's and close to the newly reconstructed Hanover Park.
The building will offer 319 condominiums altogether, including some spacious two-bedroom layouts, 48 custom-furnished units, 10 duplex "townhouses" with private terraces, and three penthouses with private terraces. Units have nine-and-a-half-foot ceilings, eight-foot windows, 18-foot living rooms, Burmese teak floors and washer/dryers.
Expected to be completed in early 2008, the building is being marketed by the Sunshine Group.
Community
Read the latest news about 15 William Street on Wired New York Forum
Pictures of 15 William Street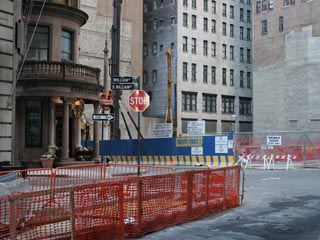 Construction site of 15 William Street. 25 December 2004.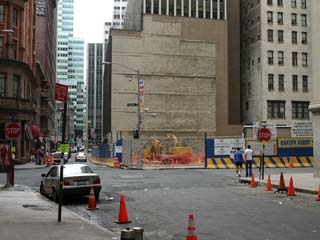 Construction site of 15 William Street. 25 September 2004.