Location: North East corner of Laight and Hudson Streets, Google Maps
At the center of TriBeCa's newest wave of new construction, 48 Laight Street was unanimously approved by the 12-member Landmarks Preservation Commission (LPC) for its integrated use of traditional and modern materials, and is scheduled for completion later in 2004. The $9 million, six-story, 9-unit building will have two- and three-bedroom loft-style residences between 1,400 and 1,900 square feet and a spectacular 2,300 square-foot penthouse, all with expansive views. Approximately 4,000 square feet of retail space will anchor the building's ground floor. Prices range from $975,000 to $1.6 million for the apartments and $3 million for the penthouse.
Community
Discuss 48 Laight Street at Wired New York Forum
Pictures of 48 Laight Street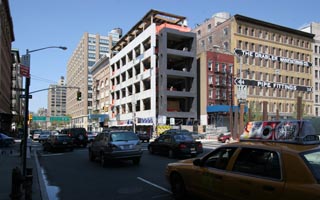 The corner of Laight and Hudson Streets. 1 May 2005.