Address: 423 West Street, Google Maps
Neighborhood: West Village
10-story condominium
Following on the heels of the Richard Meier-designed Perry Street towers and The Related Companies' Astor Place project, the newest reflective high-end condo development will be at 423 West Street, on the new Gold Coast of the West Village. The 23.5-foot-wide, 10-story tower, which is on its way to completion, sits between Perry and West 11th streets and has been dubbed Hudson Blue by developer Horizen Global.
Community
Discuss Hudson Blue at Wired New York Forum
Pictures of Hudson Blue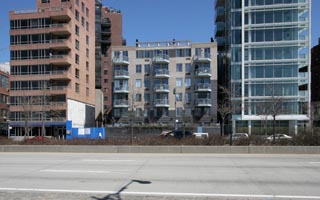 The 10-story Hudson Blue will rise on this 23.5-foot-wide site. 9 April 2005.