19 East 57th Street, between Fifth and Madison Avenues, Google Local Map
Architect Christian de Portzamparc
Floors: 23
Tishman
Construction served as Construction Manager for the new Louis Vuitton North America Headquarters. Situated on 57th Street between Fifth and Madison Avenues, the 23-story, 100,000 square foot glass encased tower houses a Christian Dior retail store on its first two levels and administrative offices of Louis Vuitton and its affiliates on floors three through 22.
The tower's design features an all-glass sculpted facade with multiple planes and complex geometric shapes. Ceramic frit, applied between the layers of
curtain wall glass, serves a dual role – to create an interesting visual effect when one is standing inside the building and looking out, as well as to produce an unusual pattern on the building's exterior. Unique interior and exterior lighting creates special design effects during evening hours.
Tishman managed the construction on one of New York's most prestigious and heavily trafficked thoroughfares, coordinating the work with city officials and smoothly managing all construction activities while several other major construction projects were taking place on the same block.
December 7, 1999
The LVMH Tower- LVMH unveils USA Headquarters in central Manhattan, New York
LVMH, the world's leading luxury goods company, today announced the opening of the LVMH Tower, its North American headquarters. The 23-story tower, located at 19 East 57th Street, was designed by the architect Christian de Portzamparc, winner of the Pritzker prize.
The tower will be inaugurated tomorrow, 8th December at midday, by Bernard Arnault, CEO of LVMH. The evening ceremony will begin with the illumination of the tower in the presence of Hillary Rodham Clinton. This will be followed by a dinner in aid of the Municipal Art Society of New York, attended by more than 600 guests from France and America.
A new Christian Dior boutique, 500 square metres in size, will be opened simultaneously on the ground floor of the tower. The American offices of Parfums Christian Dior, Céline, Guerlain, Loewe, Louis Vuitton and LVMH will be situated on the other floors.
The tower is built of glass produced specially for façades, which is alternately transparent or translucent. A curtain wall of translucent white glass partially covers the body of the building, which is itself covered with transparent panes which filter the light. "This building is a body, not a façade. It is a crystal flower unfolding in the New York sky " said Christian de Portzamparc. Check Top toys and Menards Ad.
The building will also have original and innovative lighting. A luminous beam, 100 metres high, will be used to change its appearance through the use of different colours.
Pictures of LVMH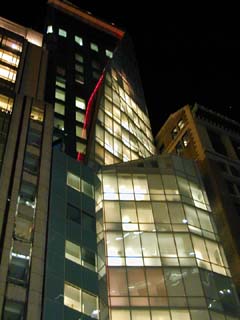 The view on LVMH tower at night.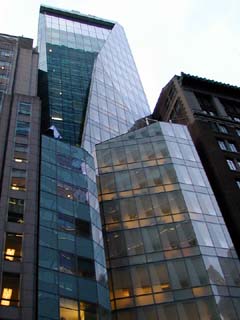 The view on Louis Vuitton North American Headquarters from 57th Street.