12 MetroTech Center/330 Jay Street, corner of Jay Street and Tech Place (Johnson Street)
Height: 473 ft (144 m)
Floors: 32
1,125,000 square feet
Opening : Spring 2005
Developer Forest City Ratner Companies
330 Jay Street has been designed to be an integral part of the Metrotech Center complex and responds to the context of downtown Brooklyn. Rising 473 feet high, 330 Jay Street consists of 32 stories (including two stories that will house the building's mechanical equipment). The below grade parking and floors 1 through 25 will be occupied by the New York State Supreme Court and Kings County Family Court.
The remaining floors (26 through 30) are being developed as commercial office space. The ground floor of 330 Jay Street will have three separate entrance lobbies, one each for Family Court and Supreme Court, and a third lobby serving the commercial office space. This site will also include two levels of underground parking.
MetroTech Center is home to blue chip tenants such as Bear Stearns & Company, KeySpan Energy (formerly the Brooklyn Union Gas Company), Chase Manhattan Bank Goldman Sachs, Morgan Stanley & Company, and the Securities Industry Automoation Corporation (SIAC). Public tenants includes the executive headquarters of the new York City Fire Department E-911's central data processing center and the City's Department of Information and Telecommunications Technology. A 16 acre corporate campus, MetroTech surrounds a two acre Commons featuring rotating art exhibitions, sidewalk dining, entertainment and cultural events, and the feel of a college campus. Minutes away from the complex are numerous shops, restaurants, and other amenities of historic Brooklyn Heights and Fulton Street Mall, one of the city's largest shopping districts. 330 Jay Street is located across from Metrotech Center, the 10 square block, $1 billion commercial, academic, and high technology office complex. Just south of 330 Jay Street is the Renaissance Plaza, a large office tower that includes the New York Marriott Brooklyn Hotel and the offices of the Brooklyn District Attorney. New York City Technical College lies north of the site, and Brooklyn Polytechnic University lies east of 330 Jay Street.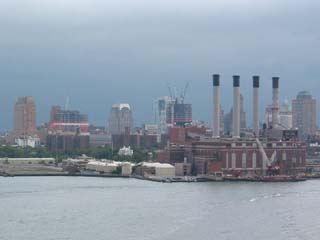 The view of downtown Brooklyn from the pedestrian walkway of the Williamsburg Bridge on 31 August 2002. 9
Metrotech Center South is rising on the left side of the picture, and 12 Metrotech Center on the right, next to Brooklyn Marriott.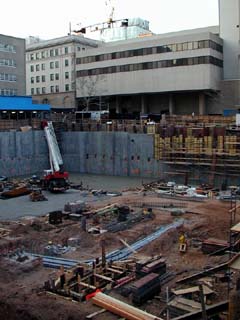 The view on the construction site of 12 MetroTech Center in January of 2002.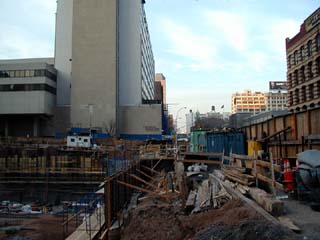 The view on the construction site of 12 MetroTech Center in January of 2002.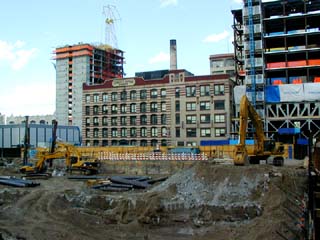 The construction site of the 12 Metrotech Center in July of 2001. Behind the site if the Joseph J. Jacobs building of the Polytechnic University, with the new dormitory building under construction on the left and the new academic building on the right.