333 Adams Street, Brooklyn, Google Maps
Telephone: 718-246-7000
Website marriott.com
Trip Advisor review of New York Marriott at the Brooklyn Bridge
Located within Renaissance Plaza, and adjacent to the Metro Tech Center and surrounding universities, New York Marriott Brooklyn is a short 5 minutes from Manhattan and the Financial District, with 9 major subway lines all within one block.
Reservations
Make reservations for New York Marriott at the Brooklyn Bridge at Hotels.com
Description
Brooklyn Bridge view
Situated at the end of the Brooklyn Bridge's ramp, this business-focused hotel lies between Brooklyn's MetroTech Center and the New York State Supreme Court building.
Indoor lap pool
Guests stay trim in a health club with an indoor lap pool, a spa tub, and a fitness center; relax in a spacious bar/lounge; and dine in a restaurant featuring buffets most days.
Desk and Web access
Guestrooms feature desks with high-speed Internet connections (surcharge) and TVs with video-game consoles and Internet access via wireless keyboard (surcharge).
Pictures of Marriott NYC Brooklyn Bridge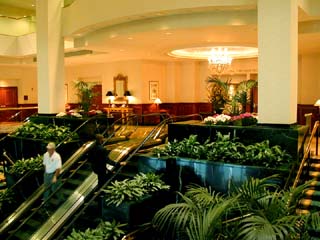 The lobby of New York Marriott Brooklyn Hotel.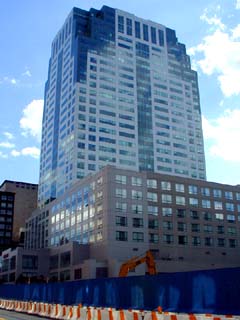 The view of New York Marriott Brooklyn Hotel from the Jay Street. The construction site in front of the building is of 12 Metrotech Center.