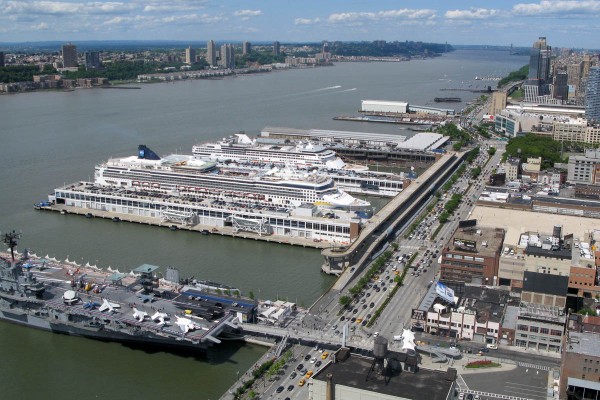 Piers 88, 90, 92
New York has begun an overhaul of the 70-year-old passenger ship terminal on the West Side of Manhattan, which with its forbidding, industrial-like exterior, relatively narrow berths and antiquated waiting rooms has long needed an update.
In Manhattan, the biggest hurdle at the existing terminal, which sits along the Hudson River between West 47th and 53rd Streets, has long been a lack of space. Built in the early 1930's and last renovated in the early 1970's, the facility now has three finger piers – Piers 88, 90 and 92 – that are about 1,000 feet long and about 400 feet apart. A terminal building sits atop each.
The piers provide a total of five berths, but they were designed when cruise ships were often only about 80 feet in width. Modern ships now average about 136 feet, with some as wide as 142 feet. As a result, two modern vessels can no longer fit comfortably in the same slip between two of Manhattan's piers.
The city wants to redesign the Manhattan cruise terminal to handle only three ships at a time, at Piers 88 and 90, but with more berth space for each ship. Pier 92 and its building will continue to be used through 2008, but over the next year the Economic Development Corporation will evaluate other uses for it.
2012 Cruise Schedule
Norwegian Gem – March 25; April 1, 8, 15, 22, 29; May 5, 12, 19, 26; June 2, 9, 16, 23, 30; July 7, 14, 21, 28; August 4, 11, 18, 25; September 1, 8, 18, 28, 30; October 10, 20, 29; November 7, 16, 25; December 4, 13, 22, 31
Norwegian Star – April 27, 29; May 6, 13, 20, 27; June 3, 10, 17, 24; July 1, 8, 15, 22, 29; August 5, 12, 19, 26; September 2, 9, 16, 23, 30; October 7, 14, 21
Norwegian Jewel – March 31; April 7, 14, 21, 28
Norwegian Dawn – November 2
Norwegian Pearl – October 14, 21, 28; November 4, 11, 18, 25, December 2, 9, 16, 23, 30
Veendam – April 22, 29; May 6, 13, 20, 27; June 3, 10, 17, 24; July 1, 8, 15, 22, 29; August 5, 12, 19, 26; September 2
Carnival Miracle – April 12, 20, 28; May 6, 14, 22, 30; June 7, 15, 23; July 1, 9, 17, 25; August 2, 10, 18, 26; September 3, 11, 19, 27; October 5, 13, 21, 29; November 6, 14, 22, 30; December 8, 16, 24
Carnival Glory – August 1, 6, 11, 16, 20, 25, 30; September 3, 8, 15, 22, 29; October 6, 13
Disney Magic – May 25; June 2, 10, 15, 17, 22, 30; July 8, 13, 15, 20, 28; August 5, 10, 12, 17, 25; September 2, 7, 12, 17
Sun Princess – July 20, 21
Balmoral – April 19, 20
Azamara Journey – April 9, 10, 18, 19
Crystal Serenity – May 8, 9
Crystal Symphony- September 19, 20; October 30, 31
MS Artania Phoenix Reisen Cruises – October 12, 13
AIDAaura – September 8, 9, 10, 28, 29, 30; October 18, 19, 20
AIDAluna- September 15, 16, 17, 29; October 1, 13, 14, 15, 27, 28, 29
Aurora – September 9
ms Eurodam -September 14; October 4
MV Regatta – September 24, 25; October 19; November 2
MV Navigator – September 23, 24; November 3, 4
Arcadia – September 26, 27
Silver Whisper – October 2, 22
Artania – October 12, 13
The World – October 29, 30, 31; November 1
Columbus 2 – November 14, 15, 16
Community
Discuss New York Cruise Terminal at Wired New York Forum
Resources
New York Cruise Terminal website