390 Park Avenue (400 Park Avenue), between 53rd and 54th Streets, Google Local Map
Architect: Skidmore, Owings & Merrill LLP (Gordon Bunshaft)
Erected: 1952
Lever House's innovative geometry has been much copied elsewhere: the tall slab of the office tower occupying only part of the site's area, and offset by the horizontal slab of the base.
Here the base is a single-story mezzanine, supported by columns around the perimeter and providing a public pedestrian area beneath. The lowest floor of the tower is recessed, emphasizing the geometric relationship of the two slabs.
In contrast to the rest of the translucent glass of the vertical slab, the top three floors of the vertical slab are opaque (hiding machinery). The strong resulting band around the top of the tower provides a balance to the base slab. In a restrained way the building thus follows the early skyscraper design of mirroring the base, shaft and capital of a classical column.
The whole is almost petite by the standards of the neighborhood, at 24 stories. It nonetheless not only influenced subsequent skyscraper design, but also helped Skidmore, Owings & Merrill to prominence.
As the headquarters of the world's biggest manufacturer of soap and detergent, the continuing cleanliness of the building was critical. The blue-green glass and stainless steel frame can be kept clean and free from grime, and have been – as a deliberate showcase for the company's cleaning products.
The building is directly across Park Avenue from the Seagram Building by Mies van der Rohe.
Commissioned as a corporate headquarters, this innovative design set new standards for office design around the world. The 24-story, 275,000 square foot glass-and-steel tower is set perpendicular to Park Avenue and rests on a two-story podium which occupies the entire site, consisting of a ground-floor plaza, entrance lobby, and second-floor roof garden. In 1970, the company commissioned a Robert Wiegand mural for the wall adjoining the roof garden. One of the first heat-absorbing sealed-glass buildings to be constructed, the curtain wall detailing defined industry fabrication methods, and stabilized heating and cooling demands. Two mechanical systems integral to the original design remain in use: the window-washing mechanism, and an automatic mail conveyor that delivers mail to each floor.
Community
Discuss Lever House at Wired New York Forum
See Also
Lever House by Carter B. Horsley
Pictures of Lever House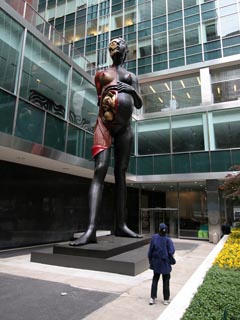 Damien Hirst. The Virgin Mother in the Lever House courtyard.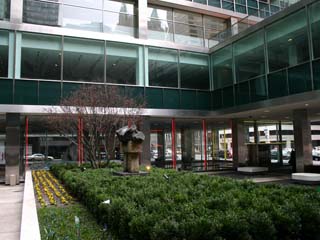 The Lever House courtyard.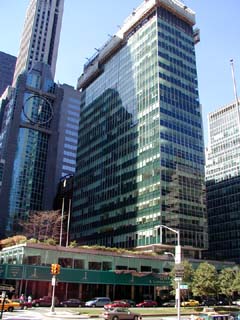 The view of the Lever House from the plaza in front of the Seagram Building.
Check Holiday Gift Guides and Michaels Ad.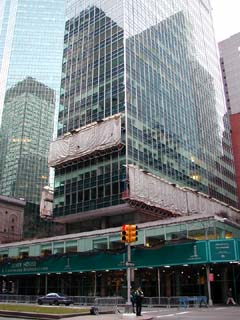 The view of the Lever House from 54th Street.