375 Park Avenue, between 52nd and 53rd Streets, Google Local Map
Architect Ludwig Mies van der Rohe, with Philip Johnson (interiors)
Erected: 1958
The Seagram building is directly across Park Avenue from Lever House
Much copied but not matched, the Seagram Building is generally recognized as the finest example of skyscrapers in the International Style. Much of the building's success comes from its elegant proportions, and its relation to the overall site: the building is set back from the street by ninety feet, and in from the side by thirty. The forecourt so created uses reflecting pools and a low boundary wall in green marble to set off the building, borrowing heavily from Mies' earlier Pavilion in Barcelona (1929).
The building's external faces are given their character by the quality of the materials used – the tinted glass and the bronze 'I-beams' applied all the way up the building. The Seagram Building is the first bronze-colored skyscraper.
Mies had first used similar applied I-beams (but in steel) at his 1951 apartment towers at Lake Shore Drive in Chicago, welded to the outside of the structural columns.
'His purported aim was the stiffening of the frame of each bay, but more important was the creation of a surface texture that relieved the potential monotony of a smooth facade, while emphasizing the verticality of the overall form. The architect later explained that he had used the device primarily because, without it, the building simply "did not look right."
Carter Wiseman in Shaping a Nation, 1998
Community
Discuss Seagram Building at Wired New York Forum
Pictures of Seagram Building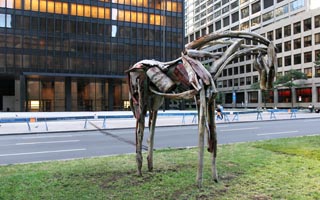 A horse on Park Avenue in front of the Seagram Building.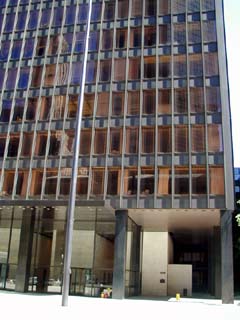 The front of the Seagram Building.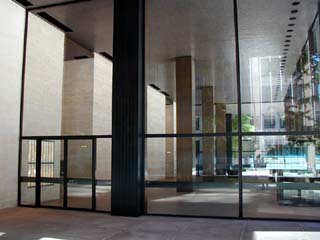 The lobby of the Seagram Building.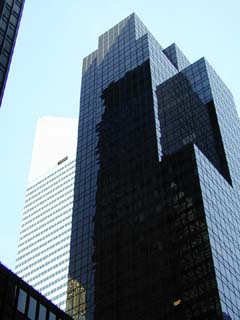 The back tower of the Seagram Building. The white building on the left is the Citicorp Building.