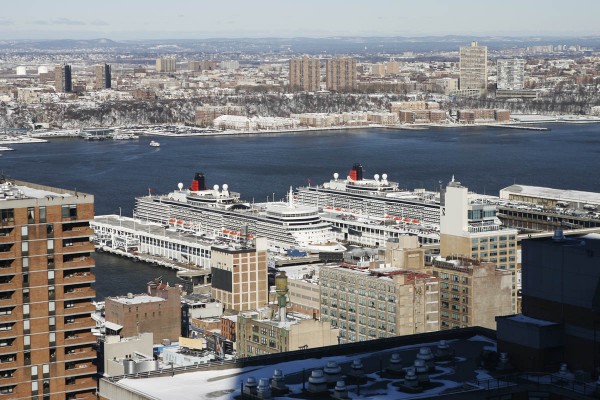 The Queen Elizabeth, Cunard's newest cruise ship,  berthed at Pier 88 of Manhattan Cruise Terminal this morning.
On January 13, three Cunard's ships are in New York City — Queen Victoria and Queen Elizabeth at Manhattan Cruise Terminal and Queen Mary 2 at Brooklyn Cruise Terminal.
The last time entire Cunard's fleet has met in New York at one time was in 2008, when Queen Victoria was launched and Queen Elizabeth 2 visited New York City for one of the last times.
A celebration will be held tonight for the meeting of three Cunard "Queen" ships in New York Harbor. The ships will sail to the Statue of Liberty for a fireworks celebration.
After her trip to New York, The Queen Elizabeth will embark on a 103-day Maiden World Voyage.