Pier 54 Directions
Pier 54 is located at West Street and 13th Street
Transportation by Subway
1, 9: Houston/Varick Street, Christopher Street
A, C, E, L: West 4th
C, E: Spring Street
Transportation by Bus
The M21 bus crosses Manhattan on Houston Street to Greenwich
Street, two blocks east of Pier 40. The M8 bus goes west in Greenwich Village on
Ninth Street, then Christopher Street to West Street. It then proceeds north to 10th Street for its eastern journey to Greenwich Avenue.
Transportation by PATH Train
The Path Train to Christopher Street is in walking distance to the Piers
About Pier 54
Pier 54 is a long open pier that provides public access. It has an eye catching steel arch at the entrance – remnants of Pier 54's past pier
shed for ocean liner port use. The Pier is one of Hudson River Park's main event/performance spaces.
Pier 54 has been home to HRP's RiverFlicks and RiverRocks, MTV Concerts, Wigstock, Heritage of Pride Dance Party, and many more.
Historical Note: Famous Tragedy: Look closely at the entrance arch at Pier 54, and you'll see that it was once a Cunard-White Star pier. It was the
departure point for the Lusitania's first voyage.
In the future, Pier 54 will be home to historic vessels and will have areas for passive recreation such as sunbathing, strolling, reading or watching
sunsets. A large performance space will also be a part of Pier 54's future.
Community
Discuss Pier 54 at Wired New York Forum
Resources
Pictures of Pier 54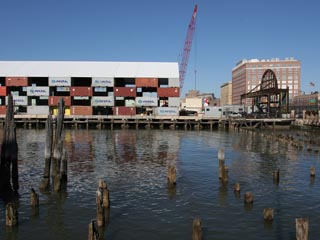 Building the Nomadic Museum from 148 shipping containers, on Pier 54 at W 13th Street. 5 February 2005.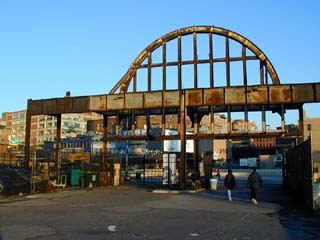 Steel arch of Pier 54 – the remains of a once-grand building built for ocean liner passengers.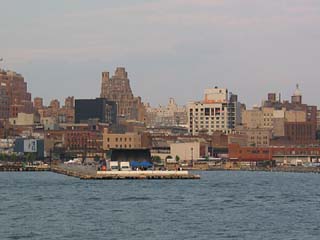 A concert on Pier 54 and the construction of Hotel Gansevoort. 26 July 2003.