Pier 57 Cross Street: 15th Street
Pier 57 is currently the subject of a proposal process being undertaken by the Hudson River Park Trust.
Our goal is to develop Pier 57 to attract a park enhancing cultural, commercial or educational activity, or a combination of these uses.
Historical Note:
A Floating Pier. Pier 57 is eligible for the State and National Registers of Historic Places. It was built in 1952 and is significant because of its innovative engineering design by Emil Praeger, who designed floating piers for Allied landings in World War II. Pier 57 is supported by three buoyant, hollow concrete boxes. These 27,000-ton sections were built in Haverstraw, NY. Upon completion, they were flooded and floated down the river to their current location. The Pier's method of construction was widely heralded and publicized in engineering journals at the time.
In the future, Pier 57 will have public esplanades on the northern and southern sides.
Community
Discuss Pier 57 at Wired New York Forum
Pictures of Pier 57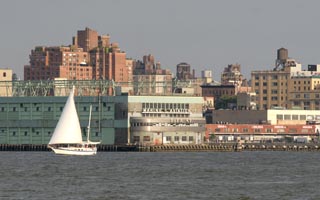 Pier 57 in August 2005.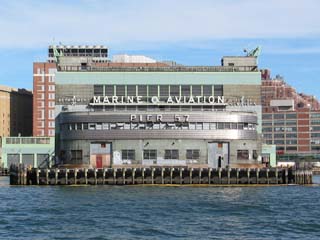 The original Pier 57, used by the Grace Lines, burned in 1947. The replacement was built between 1950 and 1954 at a cost of $12 million using techniques developed during World War II. Three concrete caissons – two of them 33 ft. deep and one 26 ft. deep – were built in Haverstraw, N.Y., and floated downriver to serve as foundations of the pier. Although the caissons rest on the river bottom, 90 percent of the pier's weight is supported by buoyancy.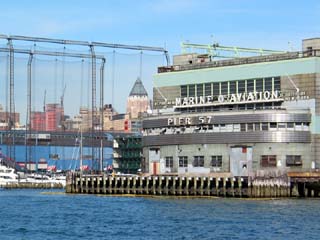 Pier 57 is located to the south of the golf range of Chelsea Piers. On the left, construction of Time Warner Center. 22 September 2002.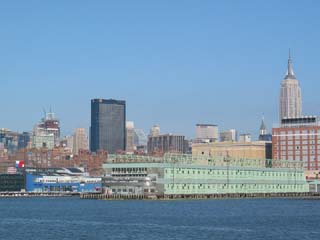 For the last three decades, Pier 57, a hulking three-story structure that juts more than 700 feet into the Hudson off 15th Street in Manhattan, has functioned as a parking garage for New York City Transit buses. On the left, construction continues on Times Square Tower. 9 March 2003.