497 Greenwich Street, Google Maps
Neighborhood: SoHo
Architect: Winka Dubbeldam, Archi-Tectonics
On the Lower West Side of Manhattan, a six-story warehouse is being renovated to accompany a new glass-skin residential building of eleven stories. This new building is a state-of-the-art luxury property, distinguished by its
glass façade – a ten thousand square-foot "curtain-wall." The once-abandoned warehouse will be reinvigorated with living spaces and the addition of an art gallery, gym and spa, screening room, wine cellar, and a duplex guest
apartment.
The integration of the existing brick building with the new steel and glass structure will create a zone of mediation between the past and the present. A small crease rising between the two structures, articulated with a set of cantilevered balconies, juxtaposes and differentiates the old and the new, inserting an interactive space
into an otherwise neutral landscape. The crease as a system of inflections blurs the distinction between the external and internal environments – marrying urban experience with domestic privacy.
In the frontier beyond Varick, where the water meets the city, sits a charismatic little neighborhood. It is upon this trapezoidal region that three of downtown's major cultural districts converge. To the north, the West Village – home to sidewalk cafés and residential tranquility. To the east, SoHo – land of cast-iron resplendence, monument to style and commerce. To the south, TriBeCa – where finance and entrepreneurship have transformed a district of industry into a triangle of lofts.
Community
Discuss Greenwich Street Project at Wired New York Forum
Pictures of 497 Greenwich Street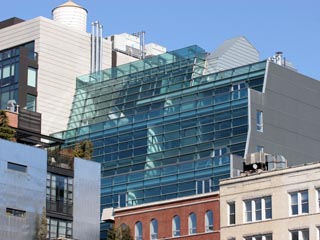 497 Greenwich Street. 13 March 2005.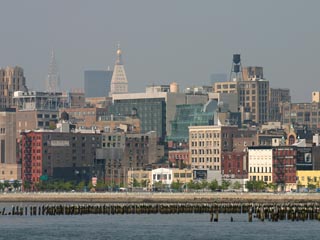 A panoramic view of Lower West Side. 5 July 2004.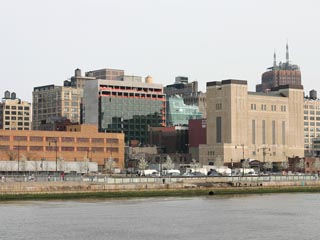 Construction of 505 Greenwich Street nears completion, with 497 Greenwich to the right. 18 April 2004.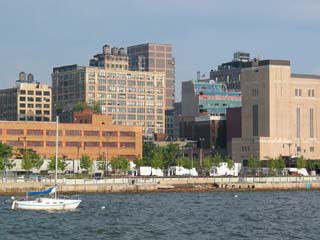 Construction of 497 Greenwich Street – the view from Pier 40. 26 July 2003.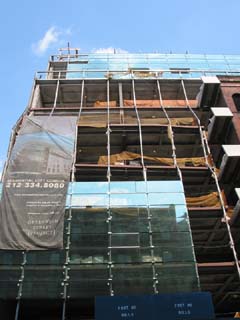 497 Greenwich Street on 4 July 2003.