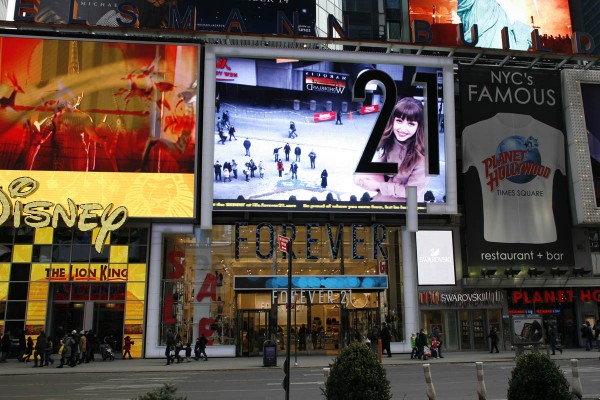 Times Square Buildings
Port Authority Bus Terminal Tower (20 Times Square)
Times Square Hotels
Other pages
Pictures of Times Square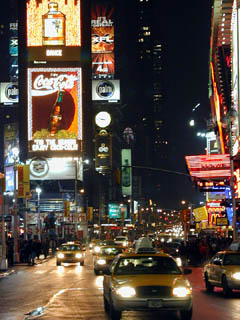 The 7th Avenue at Times Square.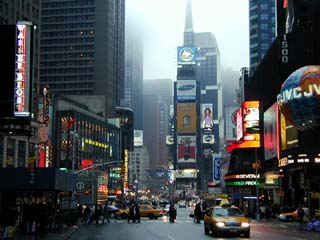 Foggy day. The view from Broadway.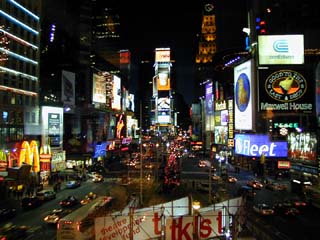 The view on Times Square from the Foley's Fish House restaurant located in Renaissance New York Hotel.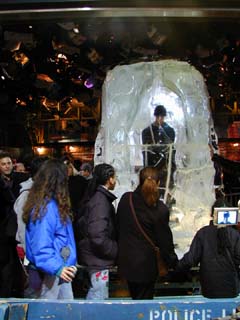 David Blaine inside the block of ice on Times Square, 28 November 2000.

The view of Times Square from the observatory of the Empire State Building.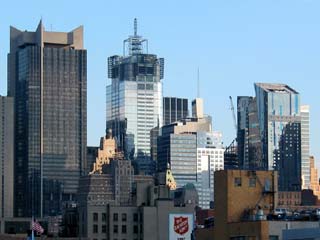 Looking at Times Square buildings from New York Passenger Ship Terminal. The 1 Astor Plaza Building, on the left, was erected in 1970. The high-tech skyscraper in the center is Conde Nast (4 Times Square), it appeared on New York skyline in 1999. The Reuters Building came in 2001. The tropical tower with unfinished roof on the right is Westin New York at Times Square Hotel that will soon open its doors to New York visitors. The hotel was built on the site of a stip club, in a effort to make 42nd Street tourist friendly. The glass tower behind the hotel with the logo EY on top is Ernst & Young National Headquarters (5 Times Square); construction nears completion. The architect of three Times Square Buildings – 3 Times Square, 4xSq, and 5xSq – is Fox & Fowle. The steel beams of 10 Times Square, a.k.a. Times Square Tower, rise between Reuters and Ernst & Young buildings. The pictures was taken on 5 October 2002.